Daily A Permits For Employees Are Here
Daily A parking rates for employees now available
The Daily A permit is giving employees access to A-spaces for $3.60 a day through ParkMobile. This is welcomed news for employees with flexible work arrangements, looking to ditch their monthly A permit and opt for the campus' new daily rates (at roughly the same daily cost of a monthly permit). Daily parking rates for C and L zones were released in January for employees and students through the pay-by-phone parking app. 
DAILY PERMIT TYPE *
EMPLOYEES
STUDENTS
VISITORS
Daily A
$3.60
N/A

$1.50/hr or $12/day
(available after 5 p.m.)

Daily C
$3.00
$3.00
$1.50/hr or $12/day
Daily L
$2.00
$2.00
$1.50/hr or $12/day
* Visitors and employees with active LRPP monthly permits are not eligible for the (lower) affiliate parking rates and may pay $1.50/hr or $12 a day through ParkMobile. Daily permits are also available at permit dispensers found in most campus lots.
Payroll deduction is not yet available for Daily Permits.
To date, more than 2,700 people have downloaded ParkMobile to access the reduced affiliate daily rate--a workable alternative for those wishing to avoid sinking upwards of $840 annually into monthly permits. 
"We're trying to decrease the number of people driving to campus daily," remarked Perry Eggleston, Executive Director of Transportation Services (TS). "Daily and hourly rates let employees and students pay for parking when they need it, rather than pay a flat monthly rate, which can be costly and actually brings more vehicles to our campus and roadways."
UC Davis is the only UC to move entirely to a daily rate and the switch to pay-by-phone parking is becoming more common for commuters. "After setting up a ParkMobile account, it takes seconds to purchase a daily permit and we're selling 900-1100 each day so far," said Eggleston.
Daily Rates Offer Flexibility
Switching from monthly permits to a daily rate will save nearly every driver money over the course of the year. As well, daily parking rates will help TS and UC Davis achieve our sustainability goals of reducing the number of SoVs (single-occupancy vehicles) driving to campus by 10% in 2025. This change in the parking pricing structure encourages a daily choice (i.e., option to drive, telecommute, take public transit) and is a way TS has adapted parking operations to better fit the times of flexible work and school schedules. Below is a chart depicting various parking cost scenarios and how they can impact Aggies' wallets.
---
Daily Rates vs. Monthly Permits
With 245 working days in FY20/21 (Fiscal Year - July 2020-June 2021), here's how daily permit costs for a full-time, full-time with vacation, and flexible work arrangement schedule would compare to the sunk cost of a monthly permit over the course of a year. And these daily permit costs assume you drive every time you come to campus. Any time to come to UC Davis by any other means, you're not paying for parking and you're saving money. See below:



Full-Time Schedule




(245 days a year driving to UC Davis)
Scenario: A full-time (FT) schedule is the maximum number of days an employee can work (with no vacation days) in the year, and pay to park every day they work. By comparison, a daily rate vs. a monthly permit paid over the course of the fiscal year is roughly the same amount.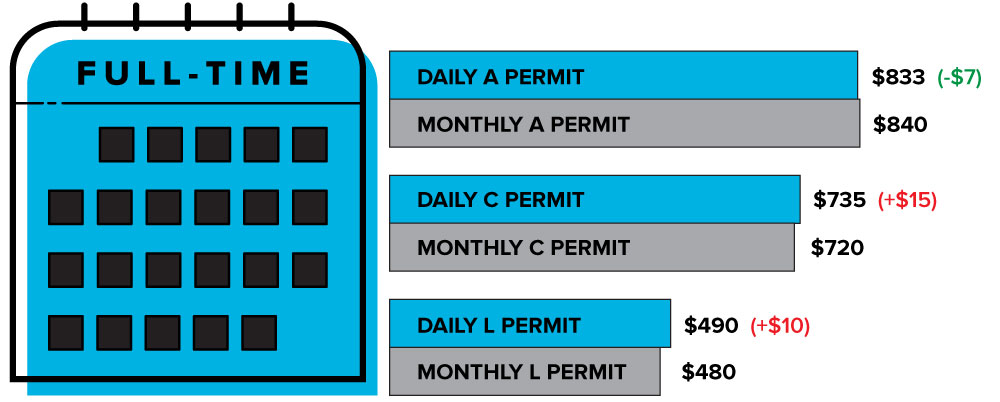 ---
Full-Time Schedule with Vacation
(230 days a year driving to UC Davis)
Scenario: Full-time employees are given a minimum of 15 days of vacation a year. Assuming those 15 days of vacation are used in full, the daily cost of parking is reduced over the course of a year. Vacation days and sick days are days an employee is not paying for daily parking.
---
Flexible Work Arrangement Schedule, working on campus 3 days a week
(156 days a year driving to UC Davis)
Scenario: A flexible work arrangement (FWA) schedule can be achieved by a full-time employee who has a blended commute schedule. For example, an employee may have the option to work on campus 3 days a week and work from home 2 days a week. Days an employee works from home (or takes public transportation), are days parking need not be paid.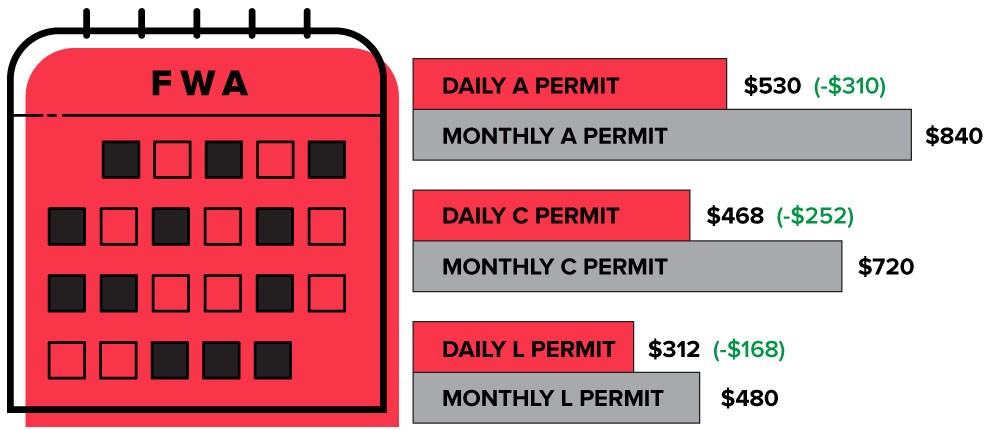 Monthly permits are "sunk cost". And, what's sunk cost?
Sunk cost refers to money that has already been spent and cannot be recovered. As it relates to a monthly parking permit, you pay a flat monthly rate regardless of whether or not you use it. For example, if you purchase a monthly C permit and you work full-time, driving your car to campus every day, you pay $720 annually (See monthly C permit in above graphic.). If you take a vacation, work from home, get sick--you are still paying a flat, bulk rate for parking, regardless of whether you park or not.
Learn more about Transportation Services parking operations and daily rates at taps.ucdavis.edu/parkingoperations, including:
How do I pay for parking using ParkMobile?

Can I move my car in a day without having to pay for daily parking twice?

How does parking enforcement know if I've paid for parking?
---
UC Davis Earns 2021 Best Workplace for Commuters Recognition
While transportation patterns are still dramatically changed due to the pandemic, UC Davis retains its national recognition as a 2021 Best Workplace for Commuters, due in large part to commuter programs and subsidies offered through Transportation Services. "From the Causeway Connection bus service launched last year to massive investments in bicycle safety and infrastructure, UC Davis continues to be a trailblazer in offering the best possible commute options," notes Perry Eggleston, Executive Director of Transportation Services. "And our shift to charging daily parking rates supports our long-term commitment to flexible schedules that blend driving, public transportation/ride-share (when safe), and telecommuting."
Primary Category
Tags