Transportation Tomorrow Forum:


Building Tomorrow's Commuting Program
Thank you to everyone who participated in our Transportation Tomorrow Forum. We appreciate your time, engagement and questions. See below for a summary of the forum as well as a link to a recording of the presentation.
TOPIC - Building Tomorrow's Commuting Program
ORIGINAL DATE - December 9, 2020, 3:30-5p
DISCUSSION TOPIC - Transportation Services' revenue has declined significantly since March when the shelter-in-place order came down. Without funding, our commuter program, the goClub, took a hit and we had to discontinue transit

subsidies

and cease offering complimentary parking passes to members.

(Note: We did bring back the complimentary parking pass through December 2020.

Read more here

.)

Additionally, concerns around public health and furthering the spread of COVID-19 have dramatically reduced the ridership across transit agencies and ride-share programs. Many Aggies currently work remotely and/or have opted to drive alone to campus--a trend we see continuing for the foreseeable future, bringing a complicated dynamic to the operational structure of the goClub.


As the most sustainable university in the world, is there a way forward for a sustainable transportation program? What does a program for Aggies in need of a flexible commute look like?

PANELISTS 

Perry Eggelston, Executive Director, Transportation Services
Ramon Zavala, Transportation Demand Manager, Transportation Services
Ryan Miller, 

Ph.D. Student, Geography Graduate Group

Ryan Jones (Moderator), Engagement Coordinator, Transportation Services 
 
Click Here to Review Recording of Forum
If you have any issues accessing this recording or have questions, please email goclub@ucdavis.edu.
---
TRANSPORTATION POLLS AND RANKINGS
Poll Question 1
Please select your 3 most important considerations when choosing how you will commute to campus. *
Response Rankings
* Participants were asked to select all that apply; there were 45 respondents.
Personal vehicle savings (fuel, wear and tear) - (26 votes)

Convenience (ease, cargo, etc.) - (24 votes)

Free/Reduced Price Parking when you need to drive - (22 votes)

Greenhouse gas emissions savings and Exercise (bike, walk, etc.) - (20 votes, tie ranking)

Greenhouse gas emissions savings and Exercise (bike, walk, etc.) - (20 votes, tie ranking)

Reduced stress from driving - (15 votes)

Transit Subsidies - (8 votes)

Being car-light/car-free - (6 votes)
Poll Question 2
When will it be "safe enough" for you to commute (via public transportation, carpool, vanpool, etc.)? **
Response Rankings
** Participants were asked to select all that apply; there were 55 respondents.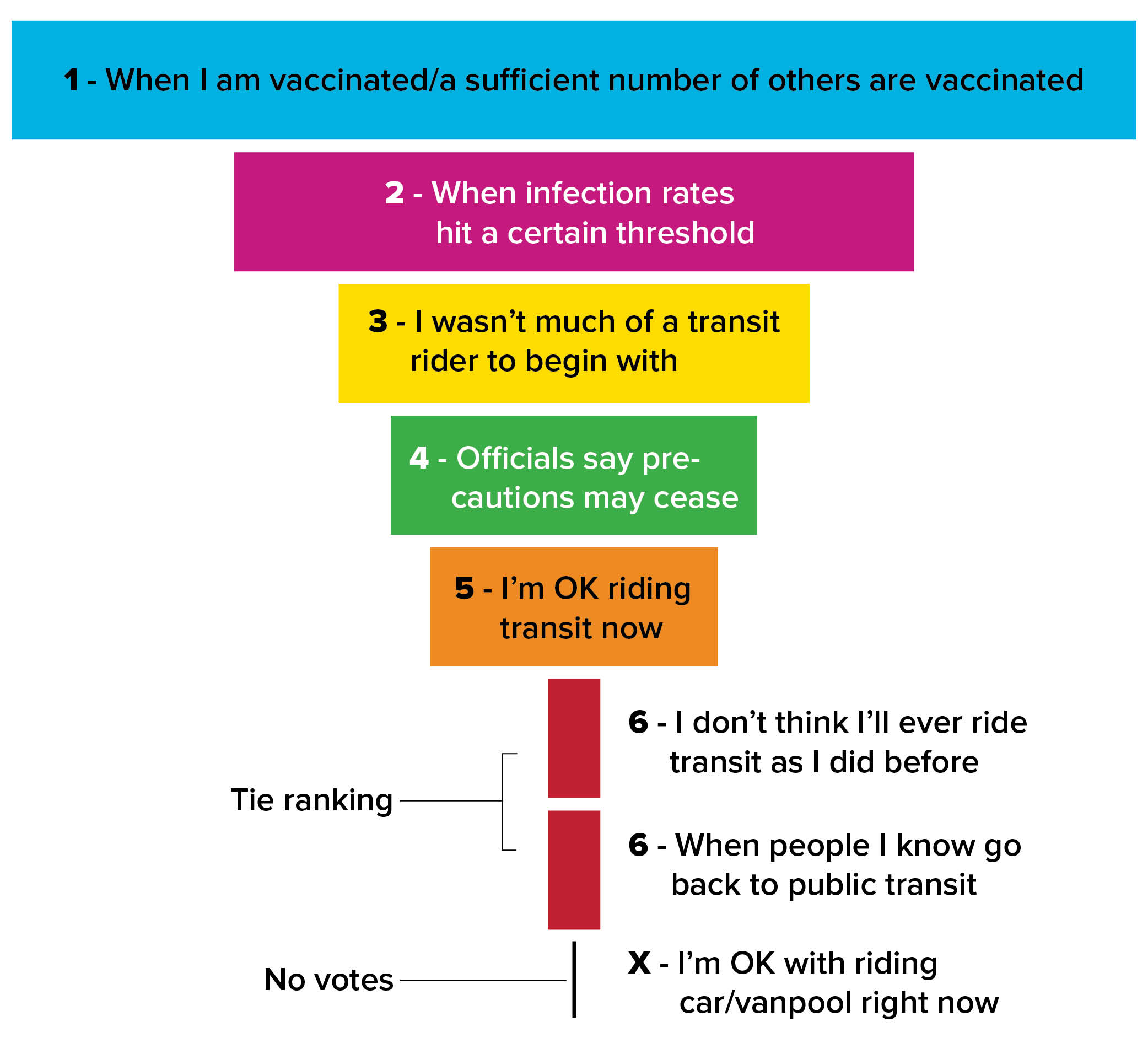 When I am vaccinated & a sufficient number of others are vaccinated - (35 votes)

When infection rates hit a certain threshold - (19 votes)

I wasn't much of a transit/carpool/vanpool rider to begin with - (17 votes)

When public officials say that these precautions may cease - (14 votes)

I'm OK with riding transit right now - (9 votes)

When I hear that people I know are going back to transit/carpool/vanpool - (2 votes, tie ranking)

I don't think I'll ever ride transit or in carpools/vanpools as frequently as pre-COVID - (2 votes, tie ranking)

I'm OK with riding carpool/vanpool right now - (0 votes)
---
Discussion Question and Submission
What parts of this sustainable commute program are most important? To you? To the sustainability goals? 
Ease, convenience and cost are driving decision factors for me

Convenience and cost benefit

A reliable transit option (bus or train) that's on time

Flexibility to use pre-tax deduction for both parking and Amtrak passes would be most important to me.

Option to continue to telecommute.

Bikes. It's the only way to go!

I live in Davis and work at the vet school and the ability to bike safely is very important to me, but I also need the flexibility to occasionally drive to campus to drop off and pick up items related to my work. Having some free parking passes per month is helpful, because otherwise I would have my partner drive me to and from campus (four total trips) rather than pay for parking.

Walking, biking, and hot air ballooning.

I'd buddy up and show people how much better their commute could be taking the slow way to work.